Vibes Glow Getter Gift Set With Jade Face Gua Sha, Vitamin C Serum, Nirvana Flower Oil & Gold Beauty Elixir Oil
Product Description
Vibes Glow Getter Gift Set With Jade Face Gua Sha, Vitamin C Serum, Nirvana Flower Oil & Gold Beauty Elixir Oil
Pamper yourself with this time-tested skin care regime.
Pick your best offer
Everything you need to know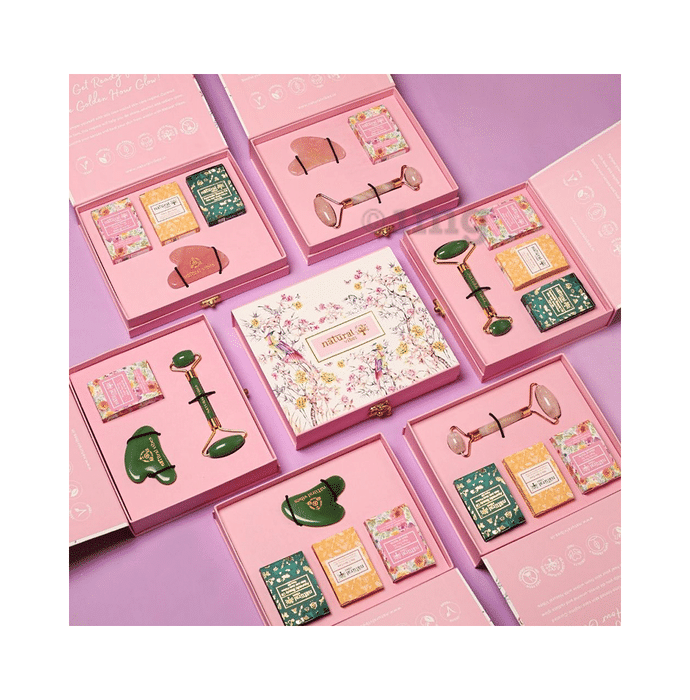 Curated with love, this regime will help you de stress, unwind and radiate glow. Soothe your senses and heal your skin from within with Natural Vibes. The perfect gift for your loved one, is the gift of self-care.
This beautiful gift set contains a Jade Gua Sha, Vitamin C Serum 3ml, Nirvana Flower Oil 3ml and Gold Beauty Elixir Oil 3ml. These aromatic and oh so relaxing blends are carefully curated to give your skin all the love it deserves.

All you need to know about our gift set :-

Natural Vibes Jade Gua Sha- is made with a natural and mineral rich stone that is known to sculpt, tighten and relieve facial muscles. Known to be a part of ancient Asian skin care regimes, the gua sha has both healing and beautifying benefits. Traditionally Jade, in Chinese culture is considered to be a lucky stone that promotes nourishment, peace of mind and renewal. It has naturally cooling properties that will help your skin relax. Our Gua Sha will not only enhance your blood circulation but also detoxify the lymph nodes leaving you with a dewy glowy complexion. Using a Gua Sha will allow you to maximize the benefits of the oil you use as it will assist the nutrients to penetrate into the deeper layers of the skin. The precisely crafted edges will perfectly lift and tone the skin preventing premature signs of ageing, sagging, fine lines, wrinkles etc. It will supply the skin cells with oxygen, further relieving the stress and anxiety we unknowingly hold in our facial muscles.

Natural Vibes Ayurvedic Beauty Oil with 24 karat gold flakes (3ml)- is a blend carefully formulated to address all your skin care needs. Made with ingredients that have been integral in Ayurveda for generations, this aromatic elixir is a fusion of Rosemary, Orange Peel, Tea tree, Patchouli, Chamomile, Rose, Pomegranate, Sandalwood, Lavender, Rosehip, Saffron, Lemon grass, Olives and 24K Gold Flakes. Rich in vitamins, antioxidants and essential oils, our beauty oil will make your skin glow naturally, while visibly improving your skin's complexion. This lightweight oil will seep through your skin, hydrating and nourishing your cells with the missing nutrients that cause premature signs of ageing, discoloration and inflammation. The small particles of gold get absorbed into the skin imparting a rich glow, making your skin look healthy, fresh and much younger.

Natural Vibes Nirvana Flower Oil (3ml)- is a multi tasking formulation designed to address all your signs of ageing such as visible pores, dryness, fine lines, uneven skin tone and age spots. Dull and lifeless skin is a side effect of age but turns out that Mother Nature has a solution for you to continue feeling radiant and youthful. An aromatic blend of Rose, Rosemary, Moringa, Marigold, Orange Peel, Chamomile, Lavender, Sandalwood, Patchouli, Basil, Coconut and Jasmine Petals, this oil will enrich your skin with the food it needs and help you calm down and de-stress. Our powerful plant based and nutrient rich oil is loaded with Vitamin A, C, E and is pH optimized for all skin types. This lightweight night oil will improve the appearance of your skin by reducing fine lines, wrinkles and other signs of ageing whilst quenching the thirst by moisturizing and nourishing your skin. It will visibly brighten and tone your skin making it firm and radiant. Our anti ageing formulation will help your skin to lock in moisture, thereby boosting skins elasticity and leaving you with a natural glow. Not only that; our oil will repair the damage caused by pollution and keep you shining on no make up days.

Natural Vibes Ayurvedic Vitamin C Serum (3ml)- is a proprietary blend that will help you fight multiple signs of ageing and maintain a healthy, youthful complexion much longer into the future. Made with natural sources of Vitamin C such as Peach, Amla, Lemon, Orange, Grape Seed and Aloe Vera, this serum will prevent your skin from oxidative damage and reduce premature signs of ageing such as fine lines, wrinkles, acne, blemishes, pigmentation and dark spots. It will further promote skin lightening and firming leaving you with a toned, well-nourished skin. Our Vitamin C serum blend will help you reap the healing benefits of aromatherapy. Guess what? It is absolutely non sticky. We promise you won't feel a thing.
READY - SET - GLOW
Ingredients
Jade, Rose, Rosemary, Moringa, Marigold, Orange Peel, Chamomile, Lavender, Sandalwood, Patchouli, Basil, Coconut, Jasmine Petals, Amla, Peach, Grape Seed, Lemon, Orange, Aloe Vera, Tea Tree Oil, Pomegranate, Sandalwood, Rosehip, Saffron, Lemon grass, Olives and 24K Gold Flakes
How to Use
Directions for use:

Oil and Serum - Take a few drops of the oil or serum on your palm and apply on your face, lips and neck.

Gua Sha -
1. For best results, store the Gua Sha in a refrigerator before use.
2. Use 2 -3 times a week
3. Wash your face, apply your choice of the Natural Vibes Oil or Serum and then start massaging.
4. Place the Gua Sha on your face as parallel to the skin as possible. Gently sweep in upward and outward motion. At the end of every motion, jiggle the Gua Sha a little in order to release facial stress that you may be holding. Sweep the Gua Sha at least 6 - 9 times in each area without lifting the tool.
5. Neck - Sweep the Gua Sha from the bottom of your neck moving upwards, against gravity
6. Face - Sweep from the centre of your chin moving out to the ear lobe.
Sweep underneath your cheekbone towards your hairline, to release the excess fluid that may be stored there.
7. Under eye - Very gently sweep under eye moving towards the mid line
8. Forehead - Sweep up from the eyebrows to the hairline, split this motion in 3 sections maintaining 6 strokes each.


Quick Tip- Please don't sweep the Gua Sha too hard on your face. Gentle pressure will give you better results.
Additional Info
MRP:
Rs. 2499
(incl. of all taxes)
Country of Origin:
India
Name of Manufacturer / Importer / Brand:
Natural Vibes
Address of Manufacturer / Importer / Brand:
A-118, Antophill Warehousing co ltd, Vidyalankar College Marg, Wadala East, Mumbai - 400037
Delivery & Returns