Trycone L- Glutathione Sunscreen Gel (100g)
Protect your skin with Trycone.
Pick your best offer
Everything you need to know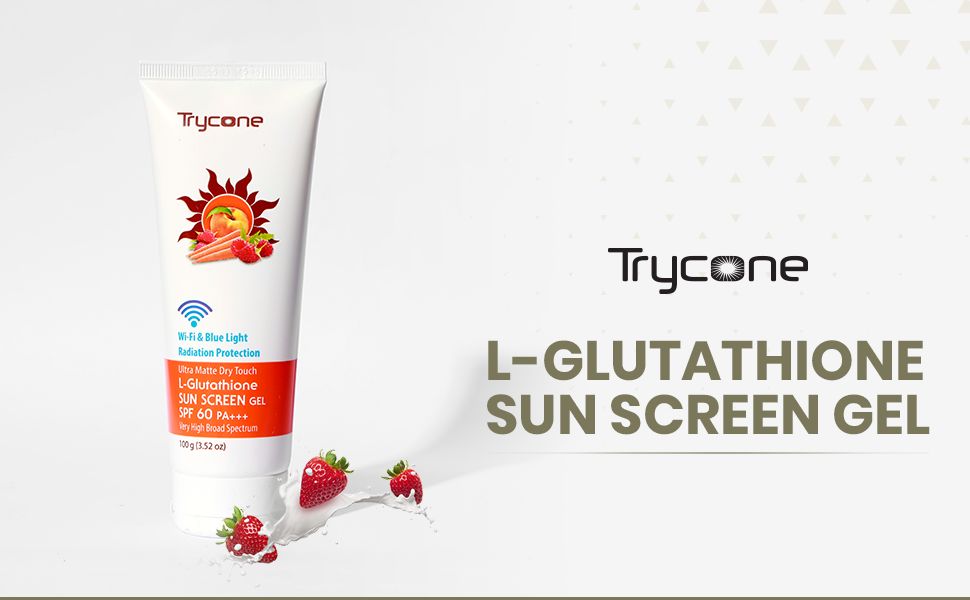 Trycone L-Glutathione Sunscreen Gel is specially formulated with RADICARE- GOLD and L-Glutathione that helps you to protect your skin from harmful effects of radiations emitted by Wi-Fi and Blue Lights around us and makes your skin whiten and brighten. It also Increases skin hydration and decelerates skin aging. And other Natural Sun Blockers like Red Raspberry Seed oil, Carrot seed oil, Peach Oil, Wheat germ oil, Sunflower Oil, Shea Butter are rich in antioxidants and contain antiseptic qualities. This helps to repair dry and damaged skin and protects it from hazardous ultraviolet rays.
QUALITY PRODUCT – Formulated with Radicare-Gold and L- Glutathione with Natural Sun Blockers like Red Raspberry Seed oil, Carrot seed oil, Peach Oil, Wheat germ oil, Sunflower Oil, Shea Butter and other Premium quality ingredients and SLS, Paraben & Mineral Oil Free that'll give you the best quality products.
VERY HIGH BOARD SPECTRUM UVA & UVB PROTECTION - There are two types of UV light that can harm your skin — UVA & UVB. A broad-spectrum sunscreen protects you from both.
WI-FI & BLUE LIGHT RADIATION PROTECTION – With RADICARE-GOLD to protect you from harmful radiations of Wi-Fi and Blue Lights.
SKIN WHITENING & ANTI POLLUTION – L- Glutathione helps you to whiten and brighten your skin. It also helps you protect your skin from damage, pigmentation, uneven skin tone caused by pollution around us.
USAGE - Easy to use, for all skin types, No Side effects, Unisex | (Made in India)
Ingredients
L-Glutathione – L-Glutathione is an antioxidant produced in cells which helps to reduce the melanin production that regulates skin pigment, improve elasticity, reduce wrinkles and gives the skin its radiance and even tone. It is a detox agent which also helps with the treatment of acne, pigmentation and resolve several other skin problems.
Vitamin C – Vitamin C is an incredible antioxidant, anti-inflammatory nutrient which is known to improve skin tone and texture, hydrate the skin, and reduce signs of aging. Adding vitamin C to your skin care routine can not only brighten your complexion but also protect against skin damage caused by sun exposure and harmful free radicals.
Carrot Seed oil - Carrot seed oil has antibacterial, antifungal, anti-inflammatory, and antioxidant properties. It acts as a Natural sun blocker and helps to protect the skin from damage cause by UVA & UVB rays.
Peach Oil Peach Oil helps to slow down aging process and also maintains the skin's elasticity due to the presence of polyunsaturated fatty acids that are related to skin health.
Radicare Gold – Radicare Gold is based on the actions of freshwater algae, it defend the skin's cells and barrier from free radicals. It safeguards skin from the radiation produced by today's natural and digital sources, from UV exposure to blue light and Wi-Fi. It also helps to reduce premature skin aging and improves skin hydration.
How to Use
-Clean the face and neck with L- Glutathione face wash
-Apply L- Glutathione Sunscreen gel all over the face and neck
-And all other exposed areas of the skin
-Apply 20 minutes prior to sun exposure
Additional Info
MRP:
Rs. 595
(incl. of all taxes)
Country of Origin:
India
Name of Manufacturer / Importer / Brand:
Jain Soap
Address of Manufacturer / Importer / Brand:
Santej, Gandhinagar
Delivery & Returns