Trycone L-Glutathione Face Wash (100g)
Always have the pleasure of having a good skin!
Pick your best offer
Everything you need to know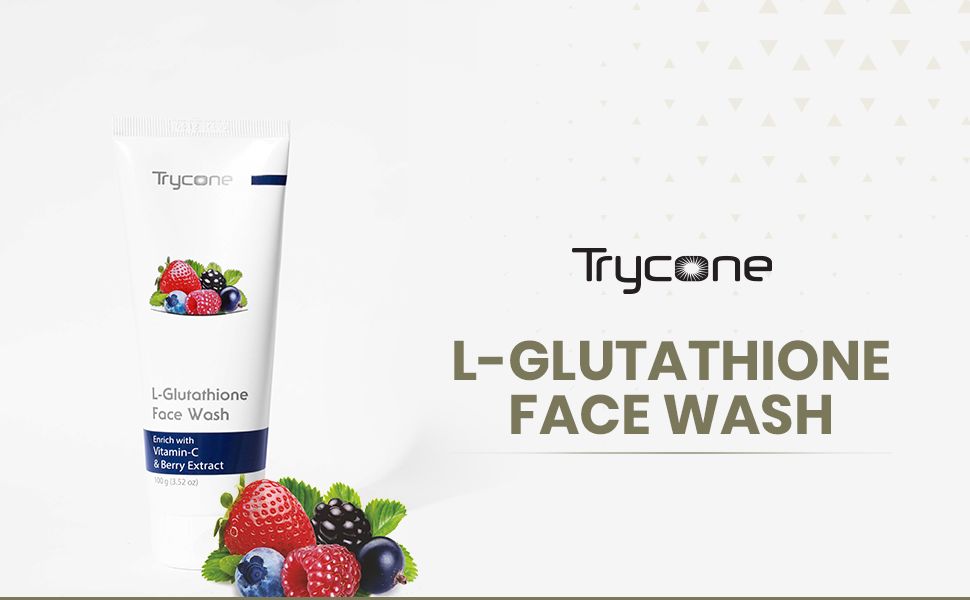 Trycone L- Glutathione Face Wash – is formulated with L- Glutathione, Vitamin-C, Vitamin E, Kojic Acid which prevents damage from UV rays, regenerates and repairs tissues, lightens hyperpigmentation, dark spots, age spots and melasma. It also boosts skin Collagen production that gives you firmer more plump skin and helps to protect skin's natural oils, treats acne, fine lines, wrinkles, dullness and gives you whiter, brighter and Glass skin tone making it look younger.
QUALITY PRODUCT - Made from a combination of L- Glutathione, Vitamin-C, Vitamin E, Berry Extract Premium quality ingredients and SLS, Paraben & Mineral Oil Free that'll give you the best quality products.
SKIN WHITENING - L- Glutathione and Vitamin C together controls Melanin and move it from basal layer to the surface. Also prevent damage from UV rays, regenerate and repair tissues, lighten hyperpigmentation. Thus helps in skin whitening.
ANTI ACNE - Vitamin E and Berry Extracts helps to control Acne and remove acne scars
GLASS SKIN - It helps to protect skin's natural oils, gives you exceptionally smooth, even-toned, and lustrous skin that's so flawless it has the appearance of glass and gives you a clear and even skin tone.
USAGE - Easy to use, for all skin types, No Side effects, Unisex (Made In India)
Ingredients
L-Glutathione – L-Glutathione is an antioxidant produced in cells which helps to reduce the melanin production that regulates skin pigment, improve elasticity, reduce wrinkles and gives the skin its radiance and even tone. It is a detox agent which also helps with the treatment of acne, pigmentation and resolve several other skin problems.
Vitamin C – Vitamin C is an incredible antioxidant, anti-inflammatory nutrient which is known to improve skin tone and texture, hydrate the skin, and reduce signs of aging. Adding vitamin C to your skin care routine can not only brighten your complexion but also protect against skin damage caused by sun exposure and harmful free radicals.
Kojic Acid - Kojic Acid helps to lighten visible sun damage, age spots, or scars. It contains antimicrobial properties so it helps to treat acne and prevent acne scars and lightens skin tone.
Berry Extract Berry Extract are high in antioxidants, which are natural compounds that help fight cell-damaging free radicals. It helps to build more collagen, a protein that gives your skin firmness and plumpness. And also reduce acne, treats skin discoloration and gives you even and brighter skin tone.
Vitamin E – Vitamin E is best known for its antioxidant properties that are effective at reducing UV damage in skin. It helps nourish and protect your skin from damage caused by free radicals.
How to Use
1.Wet your face with water.
2.Apply Trycone L- Glutathione Face Wash all over your face.
3.Gently massage for 1-2 minutes.
4.Wash off with water.
5.Pat dry.
Additional Info
MRP:
Rs. 495
(incl. of all taxes)
Country of Origin:
India
Name of Manufacturer / Importer / Brand:
Jain Soap
Address of Manufacturer / Importer / Brand:
Santej, Gandhinagar
Delivery & Returns