Trycone L-Glutathione Face Toner (100ml)
Fall in love with your Skin!
Pick your best offer
Everything you need to know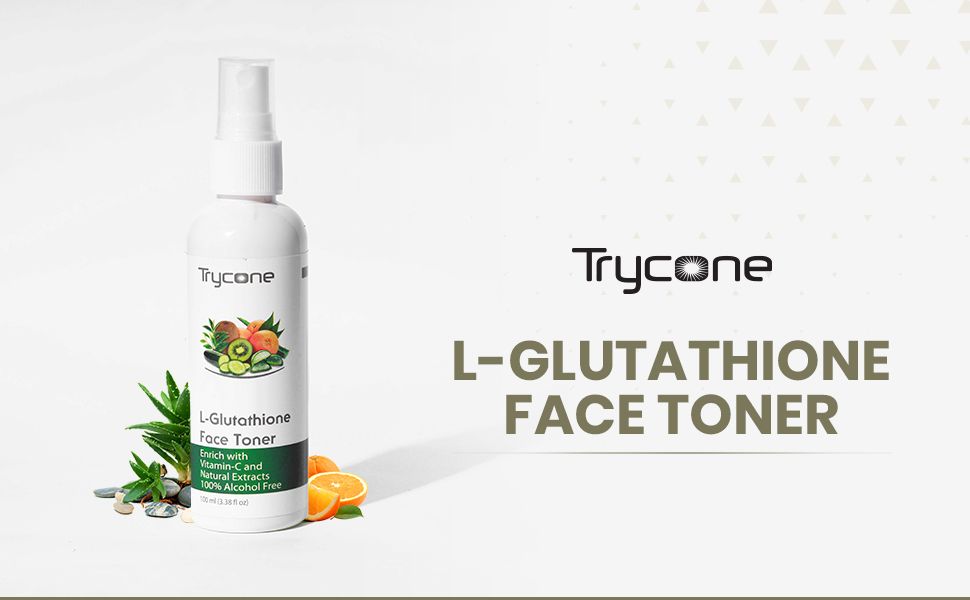 Trycone L Glutathione Face Toner – is formulated with L- Glutathione, Vitamin C and many other Natural extracts like Kiwi extract, Cucumber extract, Aloe Vera extract and Green tea Leaf extracts, Glycolic Acid which helps regenerates and repair tissues, lightens hyperpigmentation. All these ingredients have Anti-oxidant, Anti-Inflammatory and Anti-Bacterial property that helps to repair the damaged skin tissues, exfoliate it and protects it from blemishes and acne. This Alcohol-free formula tightens the pores, keeps your skin hydrated, maintains the pH balance and gives you Clean, Healthy, Flawless, Radiant Glass skin.
QUALITY PRODUCT – Made from combination of L- Glutathione, Vitamin-C, Kiwi Extract, Cucumber Extract, Aloe Vera Extract, Camellia Sinensis (Green Tea) Leaf Extract, and other Premium quality ingredients and its SLS, Paraben & Mineral Oil Free that'll give you the best quality products.
SKIN WHITENING – L- Glutathione and Vitamin C together controls Melanin and move it from basal layer to the surface. Kiwi fruit rejuvenates, revives, and firms tired skin with its high vitamins C and E content. The Antioxidants in Kiwifruit neutralize the free radicals and boosts collagen production and moisturize the skin to smooth wrinkles and fine lines giving you whiter and brighter skin.
TIGHTEN PORES - Green tea tightens the skin and reduces fine lines to reduce signs of aging.
GLASS SKIN – It helps to protect skin's natural oils, gives you exceptionally smooth, even-toned, and lustrous skin that's so flawless it has the appearance of glass and gives you a clear and even skin tone.
USAGE – Easy to use, For all skin types, Unisex (Made in India)
Ingredients
L-Glutathione – L-Glutathione is an antioxidant produced in cells which helps to reduce the melanin production that regulates skin pigment, improve elasticity, reduce wrinkles and gives the skin its radiance and even tone. It is a detox agent which also helps with the treatment of acne, pigmentation and resolve several other skin problems.
Vitamin C – Vitamin C is an incredible antioxidant, anti-inflammatory nutrient which is known to improve skin tone and texture, hydrate the skin, and reduce signs of aging. Adding vitamin C to your skin care routine can not only brighten your complexion but also protect against skin damage caused by sun exposure and harmful free radicals.
Cucumber - Cucumbers have anti-inflammatory properties, plus they're loaded with antioxidants and nutrients like vitamin C and folic acid. Which helps to cleanse the skin and tighten pores and reduce acne breakouts.
Kiwi- Kiwis are full of vitamins, minerals, and beneficial plant compounds that have anti-inflammatory and antioxidant properties known to support healthy skin. It also helps in reducing damage caused by UV rays, dark spots; prevent skin discoloration from age spots or other causes.
Green Tea –Green Tea has antioxidant, anti-inflammatory,and antimicrobial properties that reduces skin inflammation, treats acne, clear clogged pores, fights premature ageing, hydrates skin and control oil and sebum production.
How to Use
1.Cleanse your face with face wash.
2.Pat dry.
3.Pour the toner on a cotton pad or directly spray on your face and gently dab it on the face and neck Or you can spray it directly on your face. Use twice a day
Additional Info
MRP:
Rs. 395
(incl. of all taxes)
Country of Origin:
India
Name of Manufacturer / Importer / Brand:
Jain Soap
Address of Manufacturer / Importer / Brand:
Santej, Gandhinagar
Delivery & Returns