Trycone Anti Acne & Sebum Control (Pack Of 2)
Heal yourself from Acne.
Pick your best offer
Everything you need to know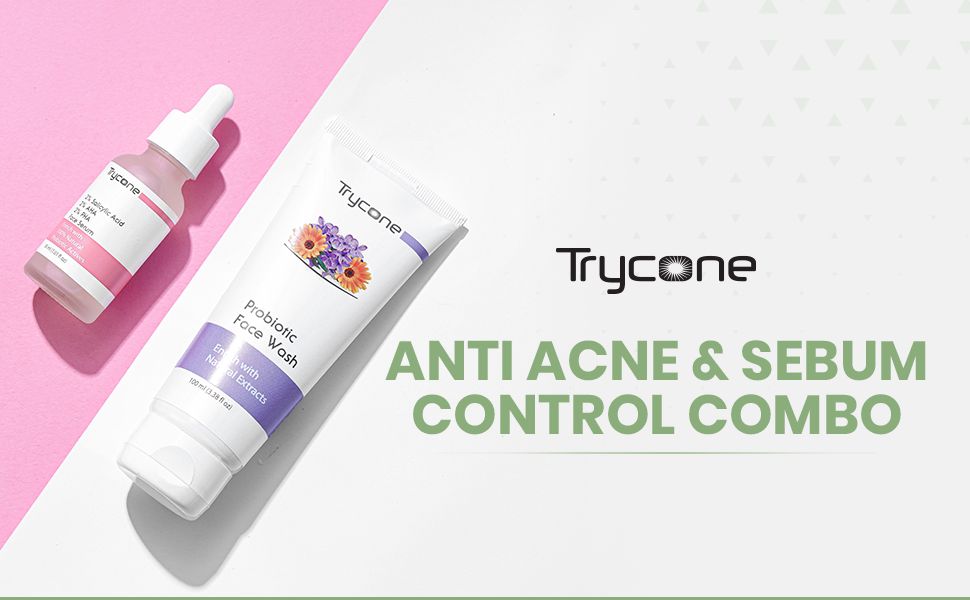 Trycone Anti Acne Skin Care – This skincare includes face wash and face serum and is formulated with 2% Salicylic Acid(BHA), 2% AHA and 2% PHA and enriched with Natural Probiotic Actives and Strawberry, Mulberry Extracts which helps to control acne, blackheads, cleanse excess oil from pores, and exfoliate dead skin cells, keeps skin hydrated. This combination of Science and Nature helps against the damage control caused by UV rays, helps to reinforce skin barriers that keep it hydrated for a long time. It helps lighten the skin by reducing melanin synthesis. Thus, gives you clear, healthy and glowing skin.

Ingredients
Salicylic Acid (BHA) – Salicylic Acid is also known as Beta Hydroxy Acid (BHA). It's well-known for reducing acne by exfoliating the skin and keeping pores clear. It also works on blackheads and whiteheads and gives you a clear and healthy looking skin.
AHA – Alpha-hydroxy acids (AHAs) is primarily used to exfoliate your skin. This helps remove dead skin cells but also makes way for new skin cell generation. It has anti-inflammatory properties that can help promote blood flow to the skin. This can help correct pale, dull complexions and reduce post acne scars.
PHA – Polyhydroxy acids (PHAs) are exfoliant that helps to slough away dead, dull-looking cells, reveal healthy cells, and improve skin texture. They also help to hydrate skin, prevent damage from UV rays, pollution and boost skin cell regeneration.
Natural Probiotic Actives - Natural Probiotic Actives helps to reinforce skin barriers which keep skin hydrated for a long time. It also reduces acne outbreaks; manage dry skin and battles skin ageing.
Witch Hazel Extract – Witch hazel constricts blood vessels to minimize the appearance of red and irritated skin. Reducing swelling: Its anti-inflammatory properties can reduce skin swelling. Absorbing oil on the skin and controlling sebum production
How to Use
1.Cleanse your face with face wash, pat dry.
2.Take 3-4 drops of serum, apply on face and neck.
3.Massage in upward circular motion.
4.Use twice daily for Clear and Healthy skin.
Additional Info
MRP:
Rs. 795
(incl. of all taxes)
Country of Origin:
India
Name of Manufacturer / Importer / Brand:
Calistta Healthcare
Address of Manufacturer / Importer / Brand:
Changodar
Delivery & Returns