The Derma Co. 5% Hyaluronic Acid Serum (30ml)
Revive your skin!
Pick your best offer
Everything you need to know
Replace dry and parched skin with a more soft, supple, and healthy look The Derma Co. way! It is an ultra-lightweight serum that combines three types of hyaluronic acid with vitamin B5 to visibly hydrate and plump the skin. It improves the skin's moisture retention, lipid barrier, and surface hydration to protect it from premature aging, UV-induced pigmentation, and acne marks. It also helps lock in moisture from the surrounding environment, keeping the skin healthy, soft, and supple. Dermatologically tested, this serum is safe, potent, and highly efficacious in treating dryness, dullness, and age spots.
Features:
Rehydrates for plumper appearance: Say hello to India's 1st 5% Hyaluronic Acid Serum! Get ready to roll with soft, supple, and intensely hydrated skin because hyaluronic acid means business when it comes to dry and aging skin. It is a humectant found in the skin that works by drawing moisture from the air and locking it down to prevent premature release. Go ahead and (gently) apply it on to give your skin deep-rooted happiness!
Reduces appearance of fine lines and wrinkles: Did you know that dehydrated skin is another cause for wrinkles? No worries! 5% Hyaluronic Acid Serum attracts water molecules from the surrounding environment and your moisturizer to lock in hydration and prevent premature water loss. It is also dermatologist-tested and super-duper safe! You don't have to wait long, as right from the first use you'll notice how wonderfully soft and smooth your skin is which is another way of saying nice try, wrinkles! Hyaluronic acid (HA) works by retaining collagen which is responsible for maintaining skin elasticity and firmness. Start and end your day with a rejuvenating dose of HA, because your skin's health is totally worth it!
Retains moisture and hydrates: Hyaluronic acid holds 1000 x its weight in water! Yes, one thousand times. With regular use, hyaluronic acid creates a barrier for the skin and locks in moisture. It also improves texture and prevents loss of moisture and water from the skin. 5% Hyaluronic Acid Serum also strengthens the skin's barrier and builds immunity against free radical damage. So, yay for science and you as flawless skin is not a myth. In fact, it comes carefully formulated with superior ingredients in this bottle of India's 1st 5% Hyaluronic Acid Serum!
Who is it suitable for: Anyone looking to prevent dryness and dullness. Suitable for all skin types.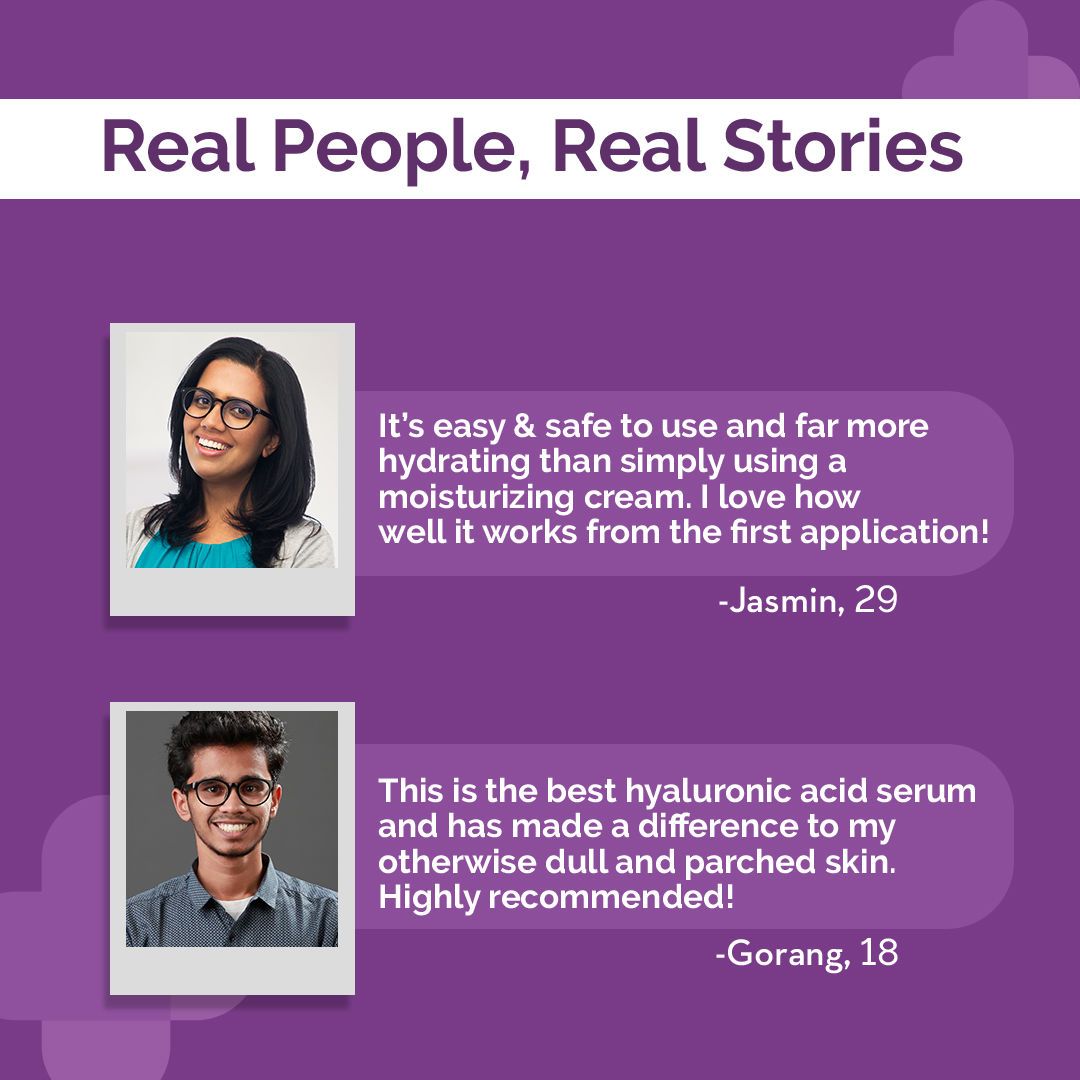 Ingredients
Key Ingredients:
Hyaluronic Acid: Hyaluronic acid is a naturally-occurring substance that has antioxidant and skin-replenishing properties. This hydration booster holds 1000x its weight in water and prevents moisture loss at the cellular level, giving you a perfectly quenched and nourished look! It also helps retain collagen, thereby reducing wrinkles and fine lines with improved skin elasticity and flexibility. It's time to get back that healthy glow!
Vitamin B5: It's also a humectant like hyaluronic acid which means that it can help the skin retain water and prevent premature moisture loss. It also helps preserve the skin's protective barrier, thereby promoting healthy skin, hair, and nails. Want smooth and naturally glowing skin, vitamin B5 is your friend!
Complete Ingredient List: Purified Water, Sodium Hyaluronate Hyaluronan, Propanediol, Polyquaternium-10, Panthenol, Phenoxyethanol, Ethylhexylglycerin, Citric Acid
How to Use
Apply 2-3 drops to the entire face and neck while carefully avoiding the eye area.
In the morning, apply after treatment serum and before sunscreen.
If using retinol at night, apply 5 minutes after using retinol.
Patch test: Patch tests are an easy way to predict if you will have an initial adverse reaction to a new product. It's recommended to perform a patch test before incorporating a new product into your routine. Clean a patch of skin on the upper forearm and apply a small amount of the product. Wait for 15-20 minutes or a maximum of 30 minutes. If any itching, redness, burning, blistering or irritation is observed, wash the area, and do not use the product.
Please note: A patch test is only for determining early irritation reactions to product(s) and does not promise similar results when applied to other area(s) of the body, including the face or after regular use. A patch test does not account for any underlying conditions and should not be used for the diagnosis of hypersensitivity or allergic contact dermatitis
Additional Info
MRP:
Rs. 899
(incl. of all taxes)
Country of Origin:
India
Name of Manufacturer / Importer / Brand:
Alaina Healthcare Pvt. Ltd.
Address of Manufacturer / Importer / Brand:
Khasra No. 127-132, 707/133 & 685/608/32, Village Jharmajri, Baddi, Distt. Solan (H.P.) – 174103
Expiry Date: 30 April 2023
Delivery & Returns