Neemli Naturals Caffeine & Cucumber Under Eye Cream (15ml)
Out of stock
Pick your best offer
Everything you need to know


How it works :
The cream deeply hydrates the skin under the eye and brightens the under eye circles. It helps the skin retain the plumpness.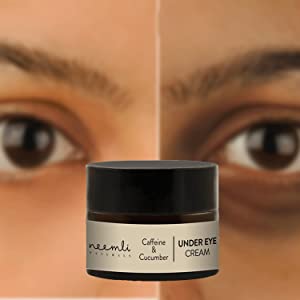 Neemli Naturals Caffeine & Cucumber Under Eye Cream is a soothing under eye cream that targets eye bags, puffiness, dark circles and fine lines. This is a botanically formulated under eye cream that blends quickly into the skin. Caffeine stimulates blood which effectively brightens under-eye circles. Cucumber oil refreshes and deeply hydrates the area under the eye. Hyaluronic acid helps skin retain its plumpness. Neemli Naturals creams do not have any added fragrance, so all that you can smell is the essential oil blend. Key Benefits: Reduces dark circles Diminishes puffiness Firms and tones the under-eye area Minimizes fine lines Hydrates and soothes skin What else you need to know: Neemli Naturals products are formulated without synthetic ingredients, parabens, sodium lauryl sulfate, phthalates, chemicals, fillers, mineral oils, petroleum and animal based ingredients About the Brand: Neemli Naturals is a humble home grown skincare startup based in Bandra, Mumbai. Their line of skincare is sustainably sourced, environmentally friendly, safe and most importantly, effective. All the ingredients are scientifically proven with an emphasis on being organic, vegan and cruelty-free with no compromises on quality. Created based a study of ancient Ayurvedic scripts as well modern botanicals, Neemli Naturals' products are tried and tested plant and Earth-based formulations that work long-term. Every Neemli Naturals product is of the highest quality small artisanal batches that truly deliver.
Ingredients

Cucumber and caffeine
Cucumber has an anti-inflammatory effect that helps in reducing puffiness. The high water content helps in hydrating the skin and the cool temperature decreases the flow of blood to the space around your eyes. Caffeine stimulates blood which effectively brightens under eye circles
Key Ingredients: Caffeine: Stimulates blood flow which boosts the production of collagen. Its pH level is identical to ours hence it will not dry our skin. One of caffeine's unique benefits is that it can draw water out of fat cells, thus diminishing the appearance of cellulite. It also works efficiently for brightening under-eye circles. Cucumber: Fresh and vibrant cucumber seed oil is fast absorbing and highly moisturizing cell reiterative oil, that helps to reverse signs of aging. It especially hydrates and soothes the under-eye area for a refreshed appearance. Shea Butter: A skin superfood that originates from the shea tree in Africa, its high concentration of natural vitamins and fatty acids make it incredibly nourishing for the skin. It boosts natural collagen production and natural fatty acids that protect skin and prevent it from drying. Prolonged use results in skin softening and strengthening as well as a reduction in fine lines. Hyaluronic Acid: Hyaluronic acid is naturally occurring in our connective tissues throughout our bodies, with 50% of it existing only in our skin. It holds 1000 times its weight in water and provides significant, long-lasting hydration at a cellular level. Sweet Almond Oil: Dermatologists often recommend sweet almond oil for its nourishing benefits. Almond contains vitamins A, B and E and is known for its high moisturizing capacity. Carrot Seed Oil: High in antioxidants, carrot seed oil's anti-ageing benefits for firming and toning are immense, especially against environmental stressors. Its primary component 'Carol' has moisturizing vitamin E, a protective vitamin which restores and rejuvenates skin. Grapeseed Oil: Grapeseed is full of fatty acids and vitamins C, D and E that help fade scars and tighten skin leaving it supple and smooth. It also boosts collagen production. Avocado Oil: A rich source of monounsaturated fatty acids like oleic acid, which have an immediate effect on the texture and appearance of our skin. Helps fight acne, eczema and diminishes age spots, wrinkles and fine lines. Jojoba Oil: Jojoba oil's properties are similar to the natural oil secreted by our scalp. It is an excellent solvent and helps in thoroughly dissolving sebum and impurities clogging our follicles, thus dramatically minimizing the presence of dandruff and flakiness. Vetiver: Known as 'Khus' and originally from India, vetiver has a wide range of skin benefits. It has the ability to minimise the appearance of dark spots and other marks on the skin which help result in a more even skin tone. Its hydrating properties help skin retain its suppleness. Vetiver protects from free radicals as it's a known antioxidant. Moreover, its delightful fragrance stands apart, so no wonder it is being used for thousands of years in Ayurvedic formulas. Lavender: Although its fragrant properties are a big reason for using lavender, its high antioxidant and antimicrobial properties lend to its beneficial nature for better complexion and reducing acne. Matricaria: Matricaria is a flowering plant belonging to the daisy family, it improves skin regeneration and checks the growth of unwanted bacteria. Its natural fragrance is light and sweet which makes it a great deodorant. Ingredients: Purified Water, Glycerin, Isopropyl Myristate, Caprylic/Capric Triglyceride, *Olive (Olea europaea) Oil Cyclomethicone, Propanediol, Cetearyl Olivate, Sorbitan Olivate, Glyceryl Mono Stearate, Cetostearyl Alcohol, Sodium Lactate, Glyceryl Caprylate (and) Glyceryl Undecylenate, Sodium Hyaluronate, Carbomer, Shea Butter, Heptyl Undecylenate, Tocopheryl Acetate, Polysorbate 20/Palmitoyl Tripeptide-1/Palmitoyl Tetrapeptide-7, L Arginine, Allantoin, *Sweet Almond (Prunus amygdalus Dulcis) Oil, Carrot Seed(Daucus Carota Sativa) Oil, Cucumber Seed (Cucumis Sativus) Oil, Potassium Sorbate, Sodium Benzoate, Hydroxyethyl Urea, Sodium Gluconate, Grape (Vitis Vinifera) Seed Oil, Avocado (Persea Gratissima) Oil, *Jojoba (Simmondsia Chinensis) Oil, Caffeine powder, D-Panthenol, Sodium PCA, Vetiver (Vetiveria zizanioides) oil, Lavender (Lavandula angustifolia) Oil, Matricaria (Chamomilla Recutita) Oil. *Organic Certified, Natural Ingredients
How to Use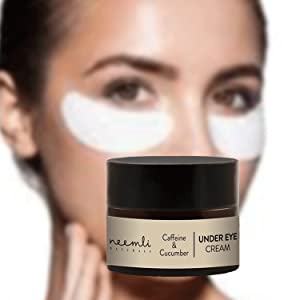 Apply lightly around the eye area to soothe and firm. Use after cleansing, toning and serum.
Additional Info
MRP:
Rs. 775
(incl. of all taxes)
Country of Origin:
India
Name of Manufacturer / Importer / Brand:
Vedic Cosmeceuticals Pvt. Ltd.
Address of Manufacturer / Importer / Brand:
B 115, SEC 65 , Noida , Uttar Pradesh , India B 31, Sec 85, Noida , Uttar Pradesh , India