Molto Bello Anti-Aging Serum (30ml)
Anti Aging Serum with added goodness of natural avocado and tocopherol.
Pick your best offer
Everything you need to know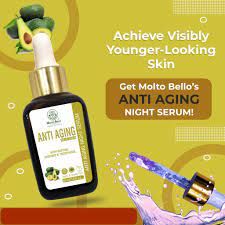 An anti-aging face serum can be a game-changer when introduced in your skincare routine at the right time. It helps your skin to fight early signs of aging and keeping it plumper and firmer for longer. Keeping all this in mind, Molto Bello introduces you to its 'Anti Aging Night Serum' with the added goodness of natural avocado and tocopherol. Avocado helps to reduce visible redness and supports the skin barrier whereas vitamin E replenishes and recharges skin with moisture overnight.

Incorporating powerful ingredients like Hyaluronic Acid, Niacinamide, Vitamin C, Vitamin E, Carrot seed oil, Rosehip Oil, and Aloe Vera extracts, this one-of-a-kind elixir imparts deep nourishment to the skin and keeps early signs of aging at arm's length. It also boosts cell turnover & stimulates collagen production, revealing radiant glowy skin.
An anti-aging face serum can be a game-changer when introduced in your skincare routine at the right time. It helps your skin to fight early signs of aging and keeping it plumper and firmer for longer. Keeping all this in mind, Molto Bello introduces you to its 'Anti-Aging Night Serum' with the added goodness of natural avocado and tocopherol. Avocado helps to reduce visible redness and supports the skin barrier whereas vitamin E replenishes and recharges skin with moisture overnight.

Incorporating powerful ingredients like Hyaluronic Acid, Niacinamide, Vitamin C, Vitamin E, Carrot seed oil, Rosehip Oil, and Aloe Vera extracts, this one-of-a-kind elixir imparts deep nourishment to the skin and keeps early signs of aging at arm's length. It also boosts cell turnover & stimulates collagen production, revealing radiant glowy skin.

BENEFITS:

● Ground-breaking elixir for hydrated, healthy, and youthful-looking skin
● Rejuvenation and helps the skin's barrier to repair itself
● Increases collagen production to avoid early signs of aging
● Protects skin from damage caused by UV Rays and prevents photo-aging
● Effectively increases skin elasticity
● 100% vegan, paraben-free, artificial fragrance-free and cruelty-free
● Promotes sustainable beauty – glass bottles and recyclable packaging
● Non Irritating formula suitable for all skin types
● Non-greasy, fast-absorbing lightweight formula
● No artificial fragrances added

STAR INGREDIENTS:

Niacinamide - Improves skin appearance by reducing enlarged pores, uneven skin tone, fine lines and, dullness
Vitamin C - Protects skin from sun damage, and boosts the production of collagen. Also, makes skin firmer and smooth and even-toned
Vitamin E - Abates scars, heal marks, and helps nourish the skin
Hyaluronic acid – Hyaluronic acid content in the serum will help support cell function and keep the skin moisturized & healthy for extended durations
Avocado Oil - Reduce visible redness and supports skin barrier


Ingredients
Niacinamide - Improves skin appearance by reducing enlarged pores, uneven skin tone, fine lines and, dullness
Vitamin C - Protects skin from sun damage, and boosts the production of collagen. Also, makes skin firmer and smooth and even-toned
Vitamin E - Abates scars, heal marks, and helps nourish the skin
Hyaluronic acid – Hyaluronic acid content in the serum will help support cell function and keep the skin moisturized & healthy for extended durations
Avocado Oil - Reduce visible redness and supports skin barrier
How to Use
Step 1 : Pump 3-4 drops of serum out
Step 2 : Apply dots all over the face & neck
Step 3 : Gently massage in an upward circular motion until completely absorbed
Additional Info
MRP:
Rs. 1995
(incl. of all taxes)
Country of Origin:
India
Name of Manufacturer / Importer / Brand:
Orgera Herblines LLP
Address of Manufacturer / Importer / Brand:
A-77 Sector44,Noida ,Gautam Budh Nagar ,State name - Uttar Pradesh, Code-09
Expiry Date: 31 July 2023
Delivery & Returns