Maybelline New York Sensational Liquid Matte Lipstick
Drench your lips in sensuous, vivid color.
Pick your best offer
Everything you need to know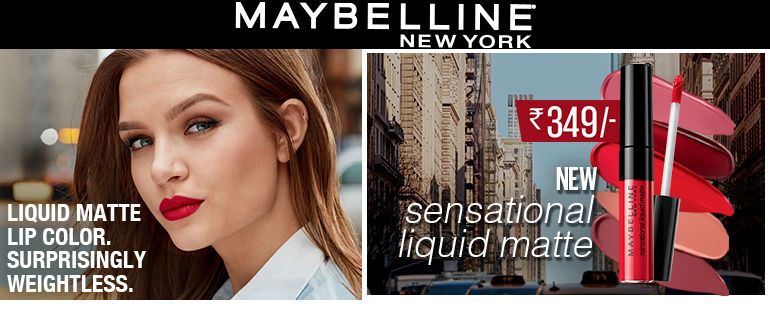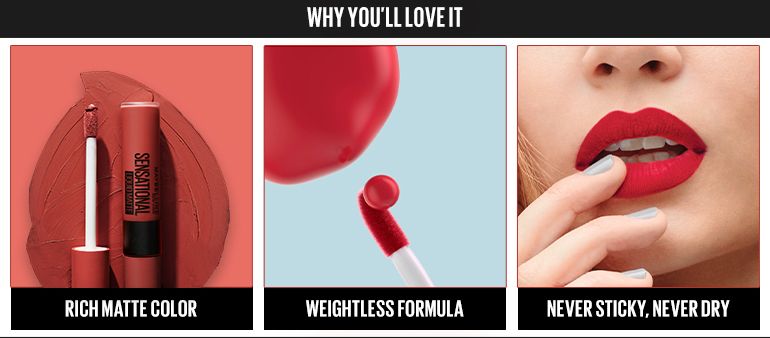 Pure pigments collide with a creamy liquid base for a velvety-soft, cushiony feel. The result? A high-impact lip that stands out!
How to Use
Apply lipstick in the centre of your upper lip.
Follow the contours of your mouth and glide the lipstick along the entire bottom lip.
Additional Info
Variant:
NU07 Get Undressed
|
MRP:
Rs. 399
(incl. of all taxes)
Variant:
22 Peach Addict
|
MRP:
Rs. 349
(incl. of all taxes)
Variant:
10 Bday Suit On
|
MRP:
Rs. 349
(incl. of all taxes)
Variant:
08 Sensationally Me
|
MRP:
Rs. 399
(incl. of all taxes)
Variant:
NU04 Bare Temptation
|
MRP:
Rs. 399
(incl. of all taxes)
Variant:
Touch of Spice
|
MRP:
Rs. 399
(incl. of all taxes)
Variant:
More than Red
|
MRP:
Rs. 349
(incl. of all taxes)
Variant:
02 Strip It Off
|
MRP:
Rs. 399
(incl. of all taxes)
Variant:
11 Made Easy
|
MRP:
Rs. 399
(incl. of all taxes)
Variant:
Red Serenade
|
MRP:
Rs. 399
(incl. of all taxes)
Variant:
04 Easy Berry
|
MRP:
Rs. 399
(incl. of all taxes)
Variant:
Nude Nuance
|
MRP:
Rs. 399
(incl. of all taxes)
Variant:
03 Flush It Red
|
MRP:
Rs. 399
(incl. of all taxes)
Variant:
09 Truly Mlbb
|
MRP:
Rs. 349
(incl. of all taxes)
Variant:
05 Keep It Mellow
|
MRP:
Rs. 349
(incl. of all taxes)
Variant:
NU08 Nude Shot
|
MRP:
Rs. 399
(incl. of all taxes)
Variant:
To the Fullest
|
MRP:
Rs. 349
(incl. of all taxes)
Variant:
07 Barely Nude
|
MRP:
Rs. 349
(incl. of all taxes)
Variant:
NU01 Bare It All
|
MRP:
Rs. 399
(incl. of all taxes)
Variant:
23 Untamed Rose
|
MRP:
Rs. 399
(incl. of all taxes)
Variant:
13 Upbeat Crimson
|
MRP:
Rs. 399
(incl. of all taxes)
Variant:
Soft Wine
|
MRP:
Rs. 399
(incl. of all taxes)
Variant:
17 Stop On Red
|
MRP:
Rs. 349
(incl. of all taxes)
Country of Origin:
India
Name of Manufacturer / Importer / Brand:
L'Oreal India Private Limited
Address of Manufacturer / Importer / Brand:
5th Floor Floor Tower B, Unitech Business Park, South City-1, South City-1, Gurgaon, Haryana, 122001
Delivery & Returns