Lakme Enrich Matte Lipstick
Nudes, pinks, browns & reds for that perfect pout!
Pick your best offer
Everything you need to know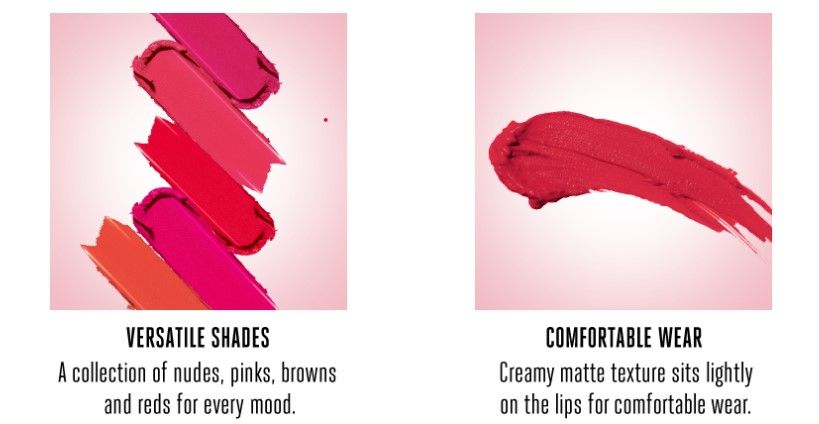 When in doubt, color it out. This Lakme Enrich Matte Lipstick is what you need to glam up your look instantly. Enriched with Vitamin E, this lipstick gently nourishes your lips, making them soft and supple. The goodness of olive extracts helps in hydrating and moisturizing your lips.
Ingredients
Enriched with Vitamin E, Olive Extracts
How to Use

Additional Info
Variant:
Shade BM12
|
MRP:
Rs. 300
(incl. of all taxes)
Variant:
Shade BM10
|
MRP:
Rs. 300
(incl. of all taxes)
Variant:
Shade RM17
|
MRP:
Rs. 300
(incl. of all taxes)
Variant:
Shade RM13
|
MRP:
Rs. 285
(incl. of all taxes)
Variant:
Shade RM12
|
MRP:
Rs. 285
(incl. of all taxes)
Variant:
Shade OM10
|
MRP:
Rs. 285
(incl. of all taxes)
Variant:
Shade RM18
|
MRP:
Rs. 285
(incl. of all taxes)
Variant:
Shade OM11
|
MRP:
Rs. 270
(incl. of all taxes)
Variant:
Shade RM14
|
MRP:
Rs. 320
(incl. of all taxes)
Variant:
Shade PM17
|
MRP:
Rs. 295
(incl. of all taxes)
Variant:
Shade PM12
|
MRP:
Rs. 285
(incl. of all taxes)
Variant:
Shade WM10
|
MRP:
Rs. 295
(incl. of all taxes)
Variant:
Shade BM11
|
MRP:
Rs. 300
(incl. of all taxes)
Variant:
Shade RM15
|
MRP:
Rs. 295
(incl. of all taxes)
Variant:
Shade PM16
|
MRP:
Rs. 300
(incl. of all taxes)
Variant:
Shade PM14
|
MRP:
Rs. 320
(incl. of all taxes)
Variant:
Shade PM10
|
MRP:
Rs. 285
(incl. of all taxes)
Variant:
Shade PM13
|
MRP:
Rs. 285
(incl. of all taxes)
Variant:
Shade RM16
|
MRP:
Rs. 320
(incl. of all taxes)
Variant:
Shade PM11
|
MRP:
Rs. 295
(incl. of all taxes)
Variant:
Shade RM10
|
MRP:
Rs. 295
(incl. of all taxes)
Variant:
Shade RM11
|
MRP:
Rs. 270
(incl. of all taxes)
Variant:
Shade PM15
|
MRP:
Rs. 285
(incl. of all taxes)
Variant:
Shade OM12
|
MRP:
Rs. 300
(incl. of all taxes)
Variant:
Shade WM11
|
MRP:
Rs. 285
(incl. of all taxes)
Country of Origin:
India
Name of Manufacturer / Importer / Brand:
Hindustan Unilever Ltd
Address of Manufacturer / Importer / Brand:
Unilever House, B D Sawant Marg, Chakala Andheri East - 400099
Delivery & Returns