Foy Naturals Lavender & Blueberry De-Tan Clay Mask (100g)
Extracted from nature's womb #foynaturals
Everything you need to know
All we need is clearer, brighter and an even tone skin. De-tan face mask is one of those skincare elixirs. It gives our skin a beautiful radiant glow by removing all signs of tan, dullness and sunburn caused by UV rays.
Our skin fights daily with pollution and cruel sun rays. And our skin is full of tiny pores that get clogged up with dirt, dead skin cells and tan. So we formulated a sumptuous combination of lavender and blueberry de-tan mask, which will not only deep cleanse the skin but also effectively removes the tan. It gives you a brighter and lighter skin.
Key Benefits:
• Exfoliates the skin
• Soothes and protects the skin from harmful UV rays
• Reveals your original glowing complexion
• Removes sun tan
• Rejuvenates and detoxifies skin
• Eliminates dead skin cells
• Boosts the hydration level of skin
• Sloughs away dirt and excess sebum
• Removes blackheads and whiteheads
• Soothes sun damaged skin
• Keeps skin infection at bay
• Refines skin pores for smooth, youthful skin
• Adds life to dull skin and prevents dryness
• Suitable for all skin types

Blended with
Flaxseed oil
Flax, also known as common flaxseed, is a flowering plant, which is cultivated as a food and fibre crop in regions of the world with a temperate climate. Due to the presence of vitamin E, vitamin B, magnesium, manganese, selenium and copper, etc flaxseed helps in the nourishment of the scalp and hair strands. Omega-3 promotes hair re-growth whereas fibres and protein improve the elasticity of hair.
Blueberry oil
The captivating blueberry oil constantly neutralizes the damaging effects of free radicals like wrinkles, dry skin and age spots.
Kaolin clay
Kaolin clay is excellent for detoxification and exfoliation, absorbing excess oils or sebum from the skin's surface, deeply clean pores and removes impurities.
Floral mix
The exotic floral mix helps to retain moisture, prevents dark circles, fights against acne, stimulates new tissue to grow, assists in sun protection reduces redness, supports & promotes natural collagen production, slows down collagen degradation, tackles free radicals, reduces the appearance of fine lines and wrinkles, reduces scarring by promoting tissue growth and fades skin discolouration.
Lavender essential oil
Known for its cleansing and healing properties, Lavender helps soothe irritated sensitive skin. It balances sebum to help control excess oil on acne-prone skin as well as lock moisture in dry skin below acne. It helps stimulate the immune system to promote healing and ease inflammation.
Previous
Next
Ingredients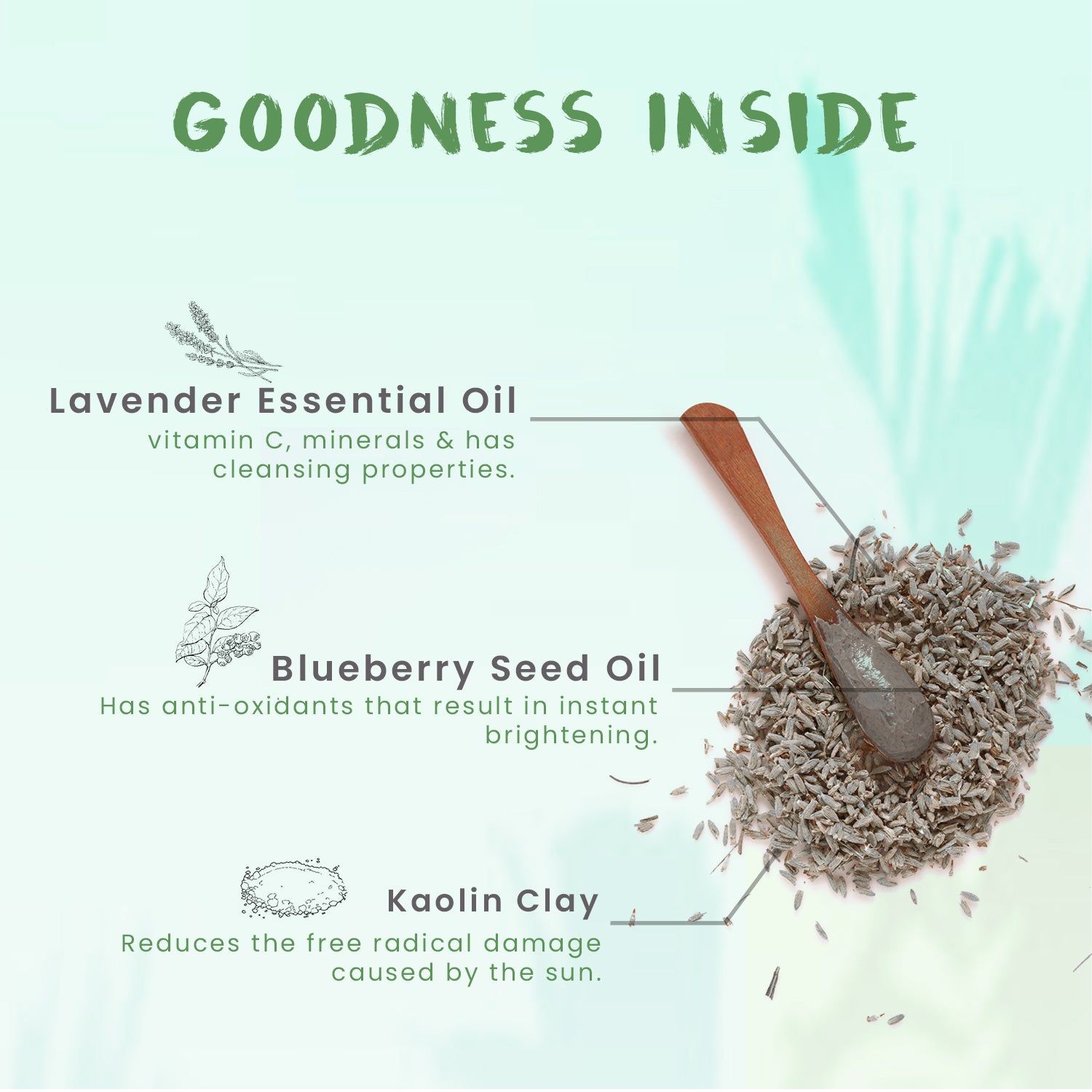 Lavender Essential Oil
Lavender helps soothe irritated sensitive skin. It balances sebum to help control excess oil on acne-prone skin as well as lock moisture in dry skin below acne
Floral Mix
The exotic floral mix helps to retain moisture, prevents dark circles, assists in sun protection reduces redness, supports & promotes natural collagen production and tackles radicals
Kaolin Clay
Kaolin clay is excellent for detoxification and exfoliation, absorbing excess oils or sebum from the skin's surface, deeply clean pores and removes impurities
Blueberry Seed Oil
The captivating blueberry oil constantly neutralises the damaging effects of radicals like wrinkles, dry skin and age spots
How to Use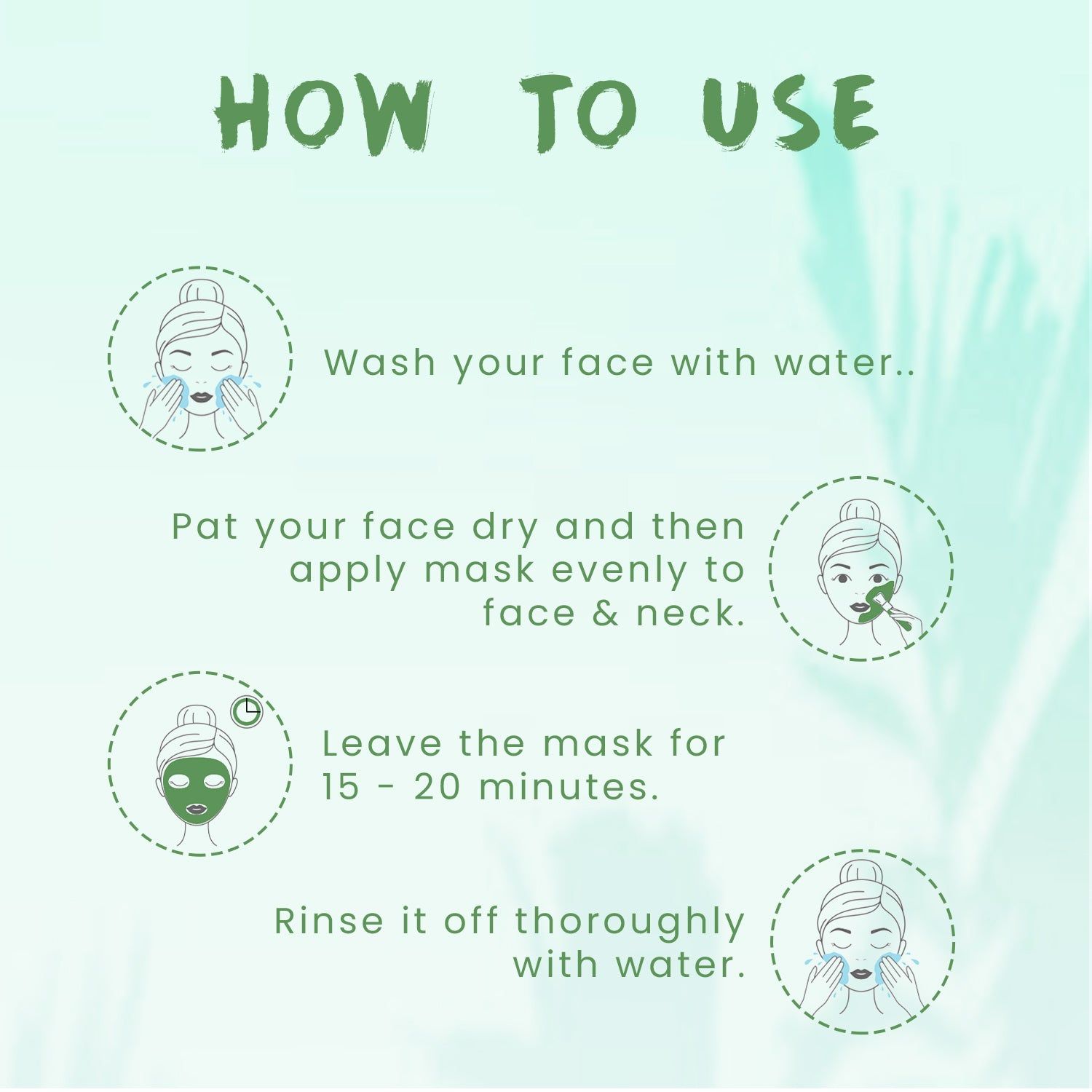 Step 1:
Apply the right amount of the clay mask evenly to the face and neck after washing the face
Step 2:
Leave it on the skin for 15-20 mins until it is completely dry
Step 3:
Rinse thoroughly with clean water and pat dry. Then moisturise your skin as usual
Additional Info
MRP:
Rs. 600
(incl. of all taxes)
Country of Origin:
India
Name of Manufacturer / Importer / Brand:
FOYNATURALS PRIVATE LIMITED
Address of Manufacturer / Importer / Brand:
H. No: 4, SP, B.No.41, Autonagar Bagh,, Hayathnagar, Hyderabad, Telangana, India, 500070