Bella Vita Organic Exfoliate Face and Body Scrub Grit, Skin Brightening, De-Tan Removal (75gm)
Product Description
Bella Vita Organic Exfoliate Face and Body Scrub Grit, Skin Brightening, De-Tan Removal (75gm)
Say bye-bye to tanned days!
Pick your best offer
Everything you need to know

Our face and body accumulate a lot of unwanted particles on them that damage the skin over time. They settle on the skin and cause various skin concerns and diseases if not cleaned well. Mild cleansers like soaps, shampoos, face, or body wash only clean the surface of our skin leaving behind the unseen factors that house it. Deeper concerns like tanning, clogged pores, black or whiteheads, clogged hair follicles, dry and cracked skin can only be tackled by additional skincare products. Dirt and dust particles combined with sweat and pollution can stick to your skin and irregular deep cleansing of your body leads to darker and tanned skin. It' important to use a stricter method to remove stubborn and unwanted particles from it. A body scrub is just what you need to remove hidden and unseen germs and bacterias. Exfoliate is a mild walnut and coffee scrub grit that can be used for any and every part of your body. Added with coconut and rock salt, this is the best exfoliating scrub available today. As a face scrub, Exfoliate removes tan from the face, clears clogged pores, and removes black or whiteheads. It brightens the face and lets it breathe and gives your pores more space for healthier skincare products to seep deeper into your skin and show results. As a body scrub, it works on lightening dark neck, elbows, and knees along with removing tan and dry skin. It also removes cracked skin from feet and leaves the skin soft and supple. The best part about Exfoliate is that it can also be used as a scalp scrub to remove dandruff and dead skin cells from the scalp. It cleans the scalp and unclogs the hair follicles to let other hair care products show their results effectively. This mild scrub grit smells exactly like coffee making it a coffee body scrub. It nourishes and brightens the face and body deeply. This multi-purpose scrub is all-natural and ayurvedic and is extremely pocket-friendly for anyone that wants to save yet experiences luxurious skincare.
Ingredients
Walnut: Has deep cleansing properties that gently remove impurities, dirt & dead skin cells. Rich in Vitamin E, nourishes & brightens the skin.
Coffee: The anti-oxidant & anti-inflammatory properties improve the overall appearance of the skin by making it flawless & smoother.
Coconut Oil: deeply moisturizes & hydrates the skin. The antimicrobial properties heal & protect the skin while making the skin texture smooth.
Rock Salt Helps in cleansing & purifying the skin. Miracle ingredient that soothes sore muscles, detoxifies the body & eases stress.
Full Ingredients
Walnut Grit, Coffee Powder, Rock Salt, Mixed Herbs, Cold-Pressed Virgin Coconut Oil.
How to Use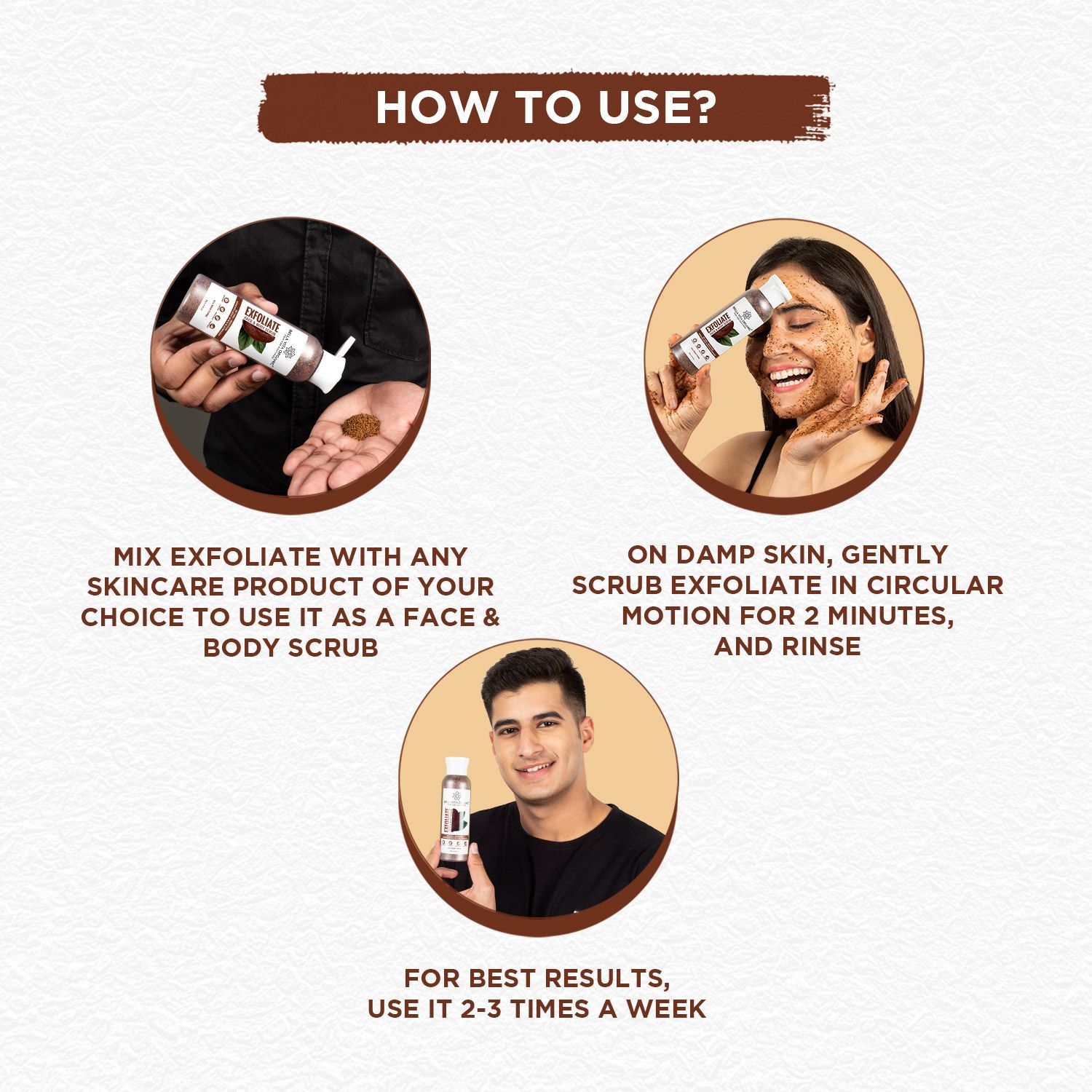 Mix the grit with any skincare product of your choice & convert it into a scrub.
Benefits- Gently remove dirt, dead cells & impurities from the skin.
This ayurvedic blend keeps the skin hydrated, nourished & polished.
A gentle exfoliator that makes the skin clearer & smoother.
Additional Info
MRP:
Rs. 275
(incl. of all taxes)
Country of Origin:
India
Name of Manufacturer / Importer / Brand:
Idam Natural Wellness Pvt. Ltd.
Address of Manufacturer / Importer / Brand:
417, First Floor, Udyog Vihar Phase 3, Sector 20, Gurugram, 122019 Haryana, India
Delivery & Returns