Dr. Sheth's Brightamins Nutraceutical With Vitamin C, D & E For Radiant Complexion And Strengthening Indian Skin (30 Capsules)
Product Description
Dr. Sheth's Brightamins Nutraceutical With Vitamin C, D & E For Radiant Complexion And Strengthening Indian Skin (30 Capsules)
This nutraceutical comes power packed with nutrients and vitamins essential for healthy skin, hair and nails.
Out of stock
Pick your best offer
Everything you need to know


For brightening and strengthening Indian skin
This nutraceutical comes power packed with nutrients and vitamins essential for healthy skin, hair and nails.
Skin Type: Suitable for all skin types.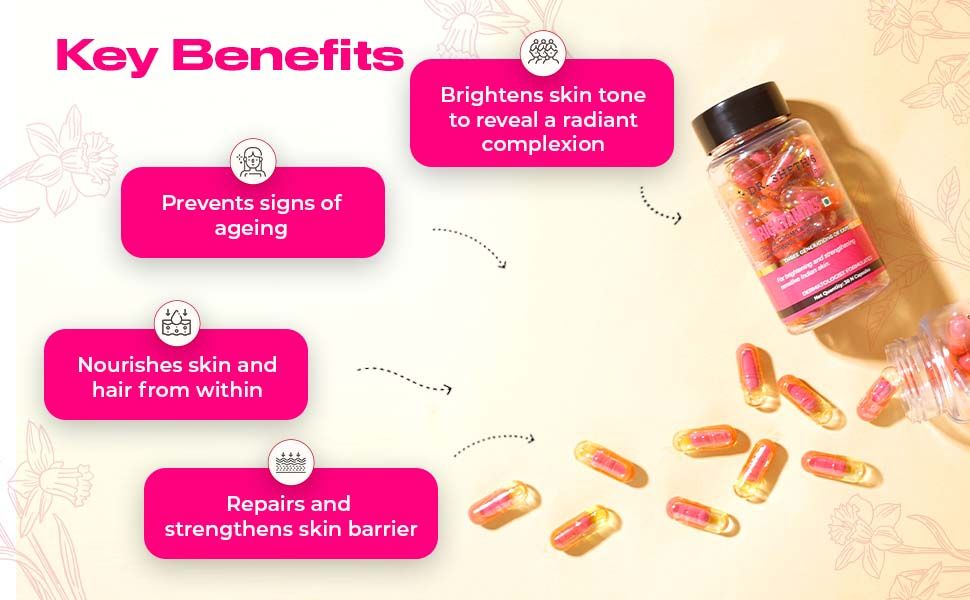 Key Benefits:
Brightens skin tone to reveal a radiant complexion
Prevents signs of ageing
Nourishes skin and hair from within
Repairs and strengthens skin barrier
Pregnancy Safe Vegan Non Toxic USFDA Certified FSSC Certified
HOW IT WORKS
EVENING PRIMROSE OIL
Evening primrose Oil is derived from the seeds of a wildflower with gamma-linolenic acid (GLA) as its key ingredient which has a high source of omega-6 essential fatty acids, it's a super hydrating and powerful anti-inflammatory.
SPIRULINA & CURCUMIN
Spirulina is a natural algae that is incredibly high in protein and nutrients. It contains amino acids, essential fatty acids, vitamin A and beta-carotene which help your hair to grow thick and strong and helps prevent hair loss.
Also high in antioxidants, spirulina combats free radical damage and gets your skin looking even, youthful and toned.
Found in turmeric, curcumin is a bioactive component with anti-inflammatory and antioxidant properties which help reduce your acne scarring and get your skin glowing.
GLUTATHIONE
Glutathione is a natural antioxidant produced in your body however, its levels can drop with age and environmental toxin. Supplemental glutathione regulates the immune response, prevents oxidative damage and naturally brightens your skin.

1. How long can you consume Brightamins for?
We recommend you continue regular consumption for holistic skin health.2. How long before I see results?It takes a few months for the Brightamins to begin to show results.3. Are supplements safe? Can anyone consume them?Yes, these are absolutely safe for consumption and perfect for anyone looking to holistically nourish their skin. However, if you have any other health concerns, please check with your physician before consumption. 4. Why is this needed in addition to a topical skincare routine?Topical skincare protects you from external aggressors, whereas beauty is more than just skin deep. Indian skin lacks specific vitamins and nutrients, which Brightamins provide.
Caution:
Safe for consumption during pregnancy
Ingredients

Evening Primrose Oil | Veg Docosahexaenoic acid, Spirulina Extract | Turmeric Extract | Glutathione | L-Phenylalanine | Vitamin E (D-Alpha Tocopheryl Acetate) | Vitamin C (Ascorbic Acid) | Vitamin D2 (Ergocalciferol) | Carrier (INS 551) | Bulking Agent (INS 460(i)) | Anticaking Agent (INS 470(iii)) | HPMC Capsule
How to Use

Derm Tip: Regular consumption of Brightamins is recommended for holistic skin health.
Additional Info
MRP:
Rs. 1099
(incl. of all taxes)
Country of Origin:
India
Name of Manufacturer / Importer / Brand:
Cheryl Laboratories
Address of Manufacturer / Importer / Brand:
MIDC Industrial Area, Mahape, Navi Mumbai, Maharashtra 400710