Colorbar 24Hrs Weightless Liquid Foundation (25ml)
A Beautiful You, Today, Tomorrow!
Everything you need to know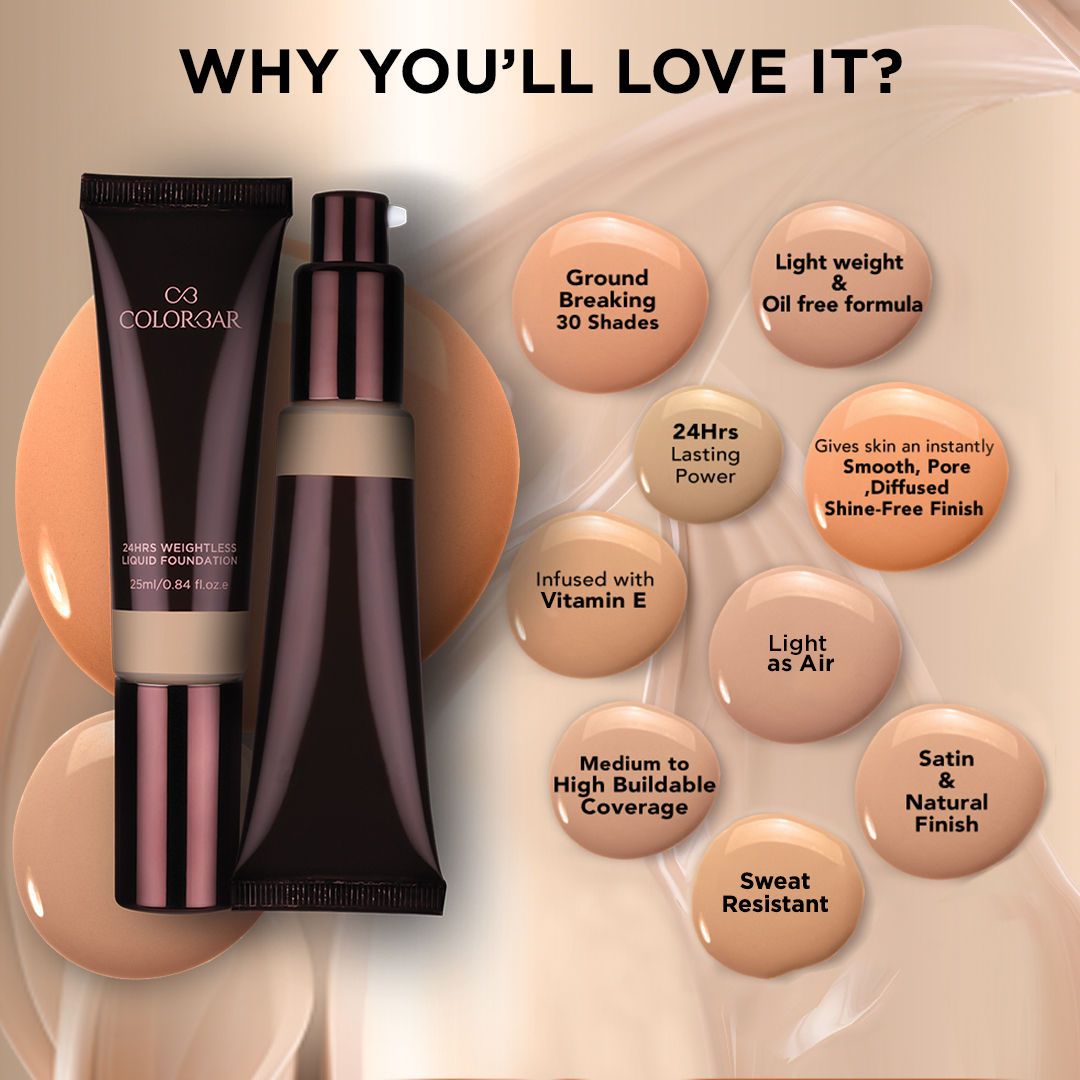 A first-of-its-kind hydrating long-wear foundation that delivers it all, with comfortable medium to full buildable coverage, 24 hours staying power, and natural finish perfect for normal to dry skin - an all-inclusive groundbreaking range of 30 shades.
Light as air, it also locks in moisture and hydration to give you instant flawless skin, shine-free coverage and luminous glow.
This oil-free and radiant weightless satin liquid foundation, hydrating and bouncy with high protection factor, becomes your main hero to blur and perfect the skin in one gesture, leaving the complexion even, protected and moisturized for hours.
The complexion appears flawless and even and the pores tightened.
Ingredients
Cyclopentasiloxane, Zinc Oxide ,Isononyl Isononanoate.
How to Use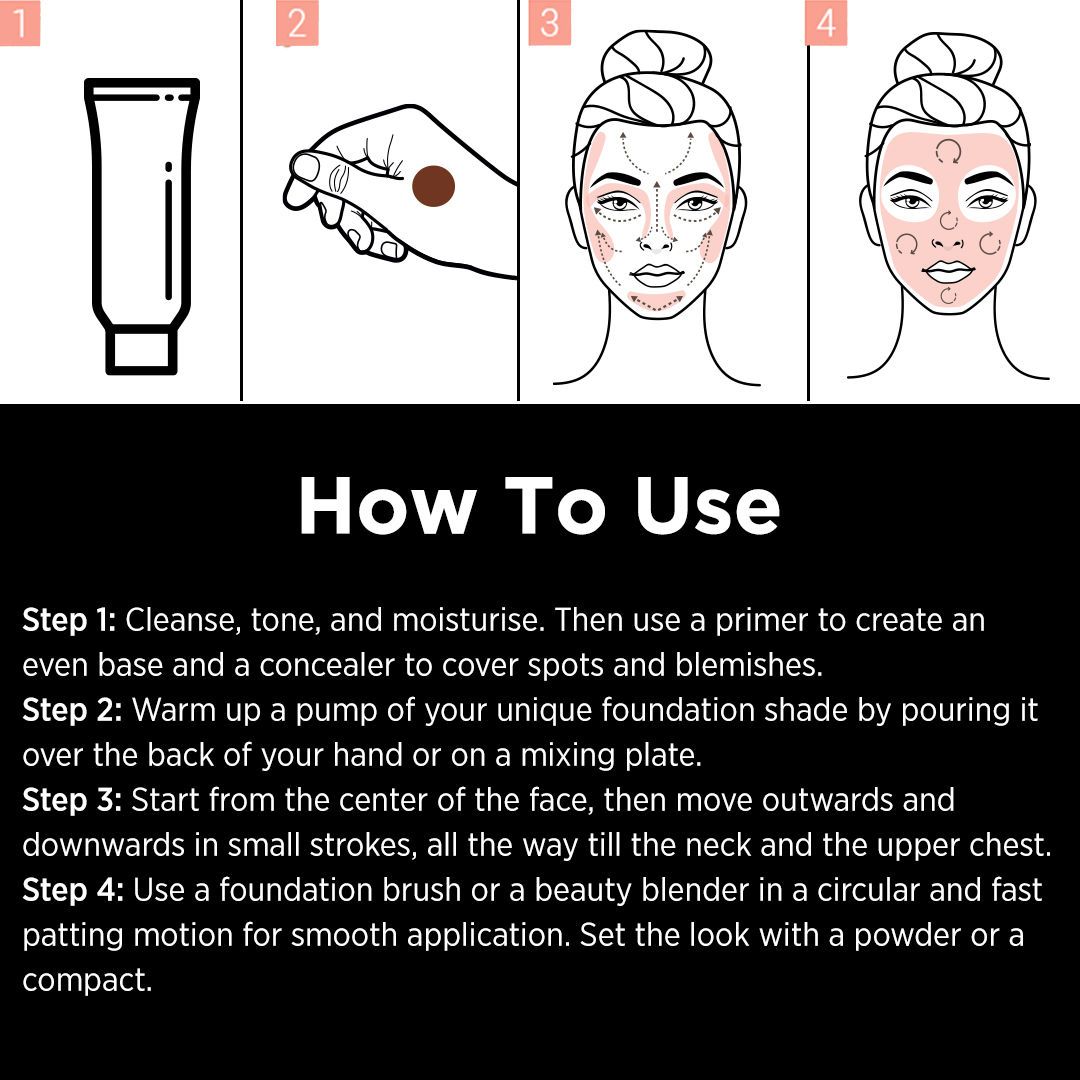 Additional Info
Variant:
FW 4.4
|
MRP:
Rs. 995
(incl. of all taxes)
Variant:
FW 7.2
|
MRP:
Rs. 995
(incl. of all taxes)
Variant:
FW 1.4
|
MRP:
Rs. 995
(incl. of all taxes)
Variant:
FW 6.4
|
MRP:
Rs. 995
(incl. of all taxes)
Variant:
FW 1.3
|
MRP:
Rs. 995
(incl. of all taxes)
Variant:
FW 5.3
|
MRP:
Rs. 995
(incl. of all taxes)
Variant:
FW 8.3
|
MRP:
Rs. 995
(incl. of all taxes)
Variant:
FC 7.1
|
MRP:
Rs. 995
(incl. of all taxes)
Variant:
FW 5.2
|
MRP:
Rs. 995
(incl. of all taxes)
Variant:
FW 8.1
|
MRP:
Rs. 995
(incl. of all taxes)
Variant:
FW 1.1
|
MRP:
Rs. 995
(incl. of all taxes)
Variant:
FW 4.3
|
MRP:
Rs. 995
(incl. of all taxes)
Variant:
FW 5.4
|
MRP:
Rs. 995
(incl. of all taxes)
Variant:
FC 3.2
|
MRP:
Rs. 995
(incl. of all taxes)
Variant:
FW 8.2
|
MRP:
Rs. 995
(incl. of all taxes)
Variant:
FW 2.4
|
MRP:
Rs. 995
(incl. of all taxes)
Variant:
FC 8.4
|
MRP:
Rs. 995
(incl. of all taxes)
Variant:
FC 6.3
|
MRP:
Rs. 995
(incl. of all taxes)
Variant:
FW 2.1
|
MRP:
Rs. 995
(incl. of all taxes)
Variant:
FW 5.1
|
MRP:
Rs. 995
(incl. of all taxes)
Variant:
FC 2.2
|
MRP:
Rs. 995
(incl. of all taxes)
Country of Origin:
India
Name of Manufacturer / Importer / Brand:
Colorbar Comsmetics Pvt Ltd
Address of Manufacturer / Importer / Brand:
4 Community Centre, New Friends Colony, New Delhi-110025