Bella Vita Organic Acne & Pimple Removal Combo, (C Glow + Anti Acne + Ubtan Plus)
Product Description
Bella Vita Organic Acne & Pimple Removal Combo, (C Glow + Anti Acne + Ubtan Plus)
Embrace this earthy Ayurvedic combo and say goodbye to acne, dullness and chemicals.
Pick your best offer
Everything you need to know

Vitamin C-Glow Natural Face Wash With Coffee, Neem & Mint, Oil Control, Acne, Brightening & Glow, Men & Women, 225 ml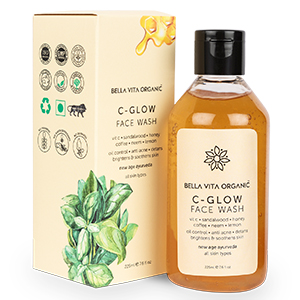 The Vitamin C Glow Face Wash, is a blend of natural & ayurvedic ingredients that gives your face a natural glow. Ayurvedic Ingredients in Vitamin C Glow Face Wash helps in controlling excess oil secretion, de-tans, and brightens your face making it smooth. It deep cleanses your pores and skin from dirt, pollution & dead skin cells.
Benefits:
1. Brightening: Brightens & soothes skin.
2. Oil Free: Clears excess oil, dirt & impurities.
3. Even Skin Tone: Evens the skin tone & helps fade spots/pigmentation/acne.
4. Hydration: Purifies, de-tan & gives a radiant glowing complexion.
Bella Vita Organic Ubtan Plus Face Pack for Glowing Skin, Oil Control, Acne, Pimples, Detan, Blemishes, Pigmentation & Brightening, 60 gm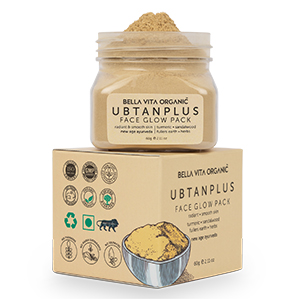 Having such multiple benefits, Ubtan Plus is the best natural face pack available today. This powdery goodness in a jar is filled with natural and ayurvedic ingredients that are bound to give you healthy skin. We all know about Ubtans and their ingredients, but Ubtan Plus Face Glow Pack is not your normal ubtan. The customized, hand-picked ingredients make it better than a regular face pack and help you get radiant skin within a few uses.
Ubtan Plus gives your skin the much-needed nourishment. It comes in a powder form and can be easily used by all skin types. It can be mixed with water, milk, honey, aloe vera, rose water, curd, or anything that suits one's skin type the best. Using this paste 2-3 times a week will give you visible results. A small amount of this powder can be used for the entire face and neck and hence will last you a very long time. This pocket-friendly goodness of Earth is the perfect ayurvedic face pack for someone who desires a luxurious experience.
Benefits:
1. One step solution to a clearer & flawless skin.
2. Removes tan & provides freshness to the skin.
3. Balances the oil production & evens out the skin tone.
4. Traditional ayurvedic remedy to achieve a radiant, younger-looking complexion.
Bella Vita Organic Anti Acne Cream Gel & Pimple Face Gel with Neem, Tulsi & Aloe Vera, 85gm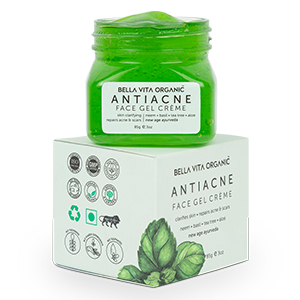 If your skin is prone to acne it's best to use an acne removal cream like our Anti Acne Gel. It not only works on active acne, but it also helps in removing the scars and marks caused by them. The Anti- Acne Gel Creme by Bella Vita Organic is filled with the goodness of neem, basil, tea tree oil, and aloe-vera making it the best scar removal cream available right now.
This anti acne cream is a gel-based formula that doesn't feel sticky. A small amount is enough to spread evenly across the face and neck and moisturizes and hydrates your skin at the same time. It can be used as a regular moisturizer as well. People with dry skin can use this too and it can be applied as a base for makeup as well. The natural and ayurvedic ingredients in this give you a herbal feel. The fragrance is light and lingers around faintly after absorption. The Anti-Acne Gel Creme provides a luxurious feel without burning a hole in your pockets, it's an affordable gel for regular use and wears.
Benefits:
1. Soothes & relieves irritated skin.
2. Fades acne, scars & dark spots.
3. Pimple relief
4. Improves overall skin texture.
Ingredients
Bella Vita Organic Oil Control Face Wash: Aqua, Vitamin C, Vitamin B5, Vitamin B3, Rose Water, Sandalwood, Licorice Extract, Honey, Aloe Vera, Neem Extract, Tulsi Extract, Lemon Oil, Coffee Extract, Essential Oils Blend, Glycerine, Allantoin, Sodium Lauroyl Sarcosinate, Coco-Glucoside, Decyl Glucoside, Sodium Benzoate, Potassium Sorbate.
Sandalwood: Retains skin moisture & soothes skin. Helps With Lightening blemishes, scars & dark spots.
Coffee: The anti-oxidant & anti-inflammatory properties improve the overall appearance of the skin by making it flawless & smoother.
Lemon / Vit C: Due to its high ph levels, Vitamin C controls excess oil & reduces skin damage & helps in wrinkle control.
Honey: Powerhouse of essential nutrients, it protects the skin from fungal/bacterial infections as well as moisturizes, hydrates, & gives a glow to the skin.
Bella Vita Organic Anti Acne, Pimple Scar Spots Removal Cream Gel:- Aqua, Aloe Vera Leaf Extract, Neem Leaf Extract, Basil Leaf Extract, Tea Tree, Vitamin E, Herbs Extract, Essential Oils, Glycerine, Sodium Benzoate, Potassium Sorbate.
Holy Basil: Reduces inflammation, clears acne & brightens skin.
Neem: An ayurvedic golden ingredient with healing & purifying properties. Treats pimples & helps in clearing excess oil & dirt.
Aloe Vera: Has soothing, hydrating & moisturizing properties. Repairs skin.
Tea Tree: Has anti-bacterial & anti-inflammatory properties which soothe & relieve irritated skin.
Bella Vita Organic Multani Mitti Ubtan Plus Face Glow Pack:- Rakt Chandan, Safed Chandan, Van Haldi, Rose Petals, Kapur Kachri, Tulsipatra, Ushir, Ayurvedic Herbs & Multani Mitti.
Ayurvedic Herbs: Blend of neem, tulsi, Ashwagandha, Bhringraj & Amla ensure a healthy glow & youthful complexion.
Turmeric: Wondrous ayurvedic ingredient to control pigmentation & blemishes. Its antioxidant properties provide luster & glow to the skin.
Fullers Earth: Also known as Multani Mitti. Deeply cleanses the skin by removing dirt & impurities. Being an effective cooling agent, it treats skin tan, rashes & soothes skin.
Sandalwood: Retains skin moisture & soothes skin. Promotes healing of blemishes, scars & lightens dark spots.
Additional Info
MRP:
Rs. 973
(incl. of all taxes)
Country of Origin:
India
Name of Manufacturer / Importer / Brand:
Idam Natural Wellness Pvt. Ltd.
Address of Manufacturer / Importer / Brand:
417, First Floor, Udyog Vihar Phase 3, Sector 20, Gurugram, 122089 Haryana, India
Expiry Date: 31 July 2023
Delivery & Returns